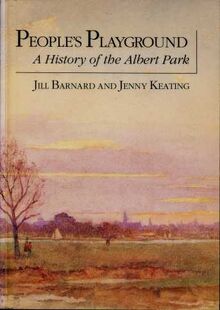 People's Playground: A History of the Albert Park, by Jill Barnard and Jenny Keating, was a book published in 1996 detailing the history of the Albert Park precinct. While South Melbourne Hellas and Middle Park are not central or dominant themes, the book contains important details about the transition of Middle Park from the ground South Melbourne United shared with local competitive cyclists, to the establishment of Middle Park as an enclosed soccer venue, as well as later battles with local residents who opposed improvements to the venue. In addition, Barnard and Keating claim that at a (unspecified) point in the 1980s, South Melbourne Hellas was offered use of the Junction Oval, but that upon inspecting the venue, Hellas declined the offer.[1]
↑

Barnard, Jill and Keating, Jenny, 1996, People's Playground, Chandos, Richmond, Victoria, p180
Ad blocker interference detected!
Wikia is a free-to-use site that makes money from advertising. We have a modified experience for viewers using ad blockers

Wikia is not accessible if you've made further modifications. Remove the custom ad blocker rule(s) and the page will load as expected.