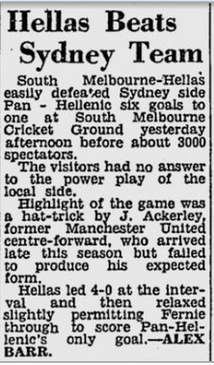 South Melbourne Hellas 6 (Ernie Acklerley x 3[1][2], Anderson[3] x 2, John Bedford) def. Pan Hellenic 1 (Fernie)
Sunday 29 November
Venue: South Melbourne Cricket Ground, Albert Park
Attendance: 3000 (estimate)[4]
Referee: ???
Lineups (incomplete)
Edit
South Melbourne Hellas: Ernie Ackerley, Anderson 2[5], John Bedford Coach: ???.
Pan Hellenic: Jim Fernie. Coach: ???
This was an end of season friendly played between South Melbourne Hellas and Sydney's Pan Hellenic (Sydney Olympic)[6]. Any further details on this match would be appreciated.
Match Reports
Edit
The Age - Hellas too good for Sydney team
References
Edit
Ad blocker interference detected!
Wikia is a free-to-use site that makes money from advertising. We have a modified experience for viewers using ad blockers

Wikia is not accessible if you've made further modifications. Remove the custom ad blocker rule(s) and the page will load as expected.