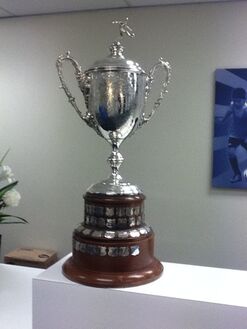 The Dockerty Cup (also occasionally spelled as Docherty Cup[1][2]) is Victorian's main knockout cup competition. It is named after Harry Dockerty, a former president of the Victorian Soccer Federation.[3]
The competition was first held in 1909, and ran every year until 1996 with the exception of 1916-1918. The competition then went into recess until 2011 (with the exception of 2004), when it was revived as the Mirabella Cup[4]; it was called the Statewide Knockout Cup in 2012 and 2013 (although the Dockerty Cup trophy was awarded in both seasons), and thereafter once again called the Dockerty Cup.
The competition was open to all Victorian clubs from all divisions, except for the years 1977 to 1984 when Victorian teams participating in the National Soccer League were not allowed to enter.
South Melbourne Hellas has won the Dockerty Cup on eight occasions
| Season | Opponent | Result |
| --- | --- | --- |
| 1974 | Ringwood Wilhelmina | 4-1 |
| 1975 | Sunshine City | 2-1 |
| 1988 | Melbourne Croatia | 3-4[5][6] |
| 1989 | Altona Gate | 1-0 |
| 1991 | Sunshine George Cross | 3-2 |
| 1993 | Heidelberg United | 6-2 |
| 1995 | Melbourne Knights | 3-1 |
| 2015 | Oakleigh Cannons | 3-0 |