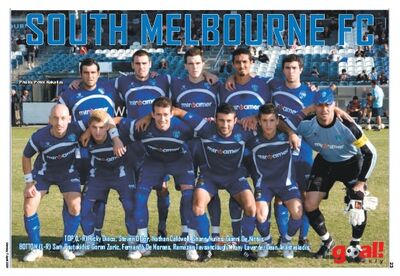 League: Victorian Premier League (aka the Foxtel Cup)  
Finishing Position: 9th of 14 (missed finals) 
Coach: John Anastasiadis (until round 7), Michael Michalakopoulos (from round 8) 
Captain: Dean Anastasiadis
Best and Fairest: Steven O'Dor 
Leading Goalscorer: Fernando De Moraes (9)  
President: Leo Athanasakis  
Major sponsor: Miroamer  
Apparel sponsor: Kelme  
Membership slogan: Passion is everything
No 1 ticket holder: Martin Foley[1]
Women: 2008 South Melbourne Women season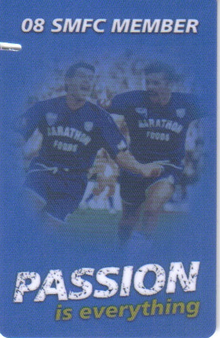 Following the disappointment of the 2007 season, South expected to return to the finals immediately. Instead, five losses from the first seven matches saw John Anastasiadis resign as coach. His replacement, Michael Michalakopoulos, managed to pull together a brief mid-season revival, but the side faltered during the final leg of the home and away season, finishing five points outside the finals.
At the end of the season, Michalokopoulos was re-appointed as coach[2], while Steven O'Dor won the club's best and fairest award.[3]
Southern Cross bid
Edit
On 14 February 2007, South Melbourne announced their interest in becoming the second Victorian club in the A-League.[4] In June 2008 South Melbourne FC sent a letter of interest to join the league[5] and lodged an application for the second Melbourne licence as part of the Southern Cross consortium.
On 26 September 2008 Football Federation Australia announced[6] it was commencing exclusive negotiations with the rival 'Melbourne Heart' bid which went on to join the competition for the 2010-11 A-League season.
Season results
Edit
Pre-season matches
Edit
Hellenic Cup matches
Edit
Victorian Premier League season
Edit
| | | | | | | | |
| --- | --- | --- | --- | --- | --- | --- | --- |
| | P | W | D | L | F | A | Points |
| Green Gully | 26 | 15 | 8 | 3 | 41 | 17 | 53 |
| Melbourne Knights | 26 | 14 | 10 | 2 | 47 | 25 | 52 |
| Altona Magic | 26 | 13 | 8 | 5 | 44 | 29 | 47 |
| Heidelberg United | 26 | 11 | 9 | 6 | 41 | 30 | 42 |
| Richmond | 26 | 11 | 7 | 8 | 57 | 35 | 40 |
| Preston Lions | 26 | 12 | 3 | 11 | 37 | 46 | 39 |
| Oakleigh Cannons | 26 | 10 | 7 | 9 | 28 | 24 | 37 |
| Australian Institute of Sport | 26 | 10 | 6 | 10 | 41 | 35 | 36 |
| South Melbourne | 26 | 10 | 4 | 12 | 35 | 32 | 34 |
| Coburg United | 26 | 9 | 4 | 13 | 29 | 40 | 31 |
| Whittlesea Zebras | 26 | 7 | 9 | 10 | 31 | 33 | 30 |
| Western Suburbs | 26 | 5 | 7 | 14 | 23 | 42 | 22 |
| Fawkner Blues | 26 | 6 | 3 | 17 | 22 | 59 | 21 |
| Frankston Pines | 26 | 4 | 5 | 17 | 19 | 48 | 17 |
Playing roster
Edit
References
Edit